Spilling a pot of chili or getting mud on the clean carpet inside a cab is a disappointment for everyone, and here we need the Best All Weather Floor Mats.
Many car owners choose an upgraded mat to help keep their car's look, value, and smell in good shape. Most of the time, aftermarket mats are better quality and offer more protection than factory mats.
All-weather mats are made of materials that can stand up to snow, slush, rain, or mud with pebbles in it. They also have ruts that catch dirt and keep it from getting inside a car. When they get dirty, you can take them off and wash them.
All-weather mats can also handle the road salt that is put on U.S. highways in the winter to keep them in good shape. The states in the Northeast and Great Lakes region, such as Connecticut, New York, Wisconsin, and Michigan, have the most salt.
Depending on where drivers live, how they live their lives, and what they do for a living, all-weather mats can be useful all year. Some drivers may want to keep their original mats and switch them out in the summer when the weather is drier.
We focused on universal all-weather floor mats instead of all-weather liners or carpet mats when making our list of the best all-weather floor mats. There are also a lot of different features, shapes, and colors to match a wide range of vehicles.
Here are our 6 top choices.
The Best All Weather Floor Mats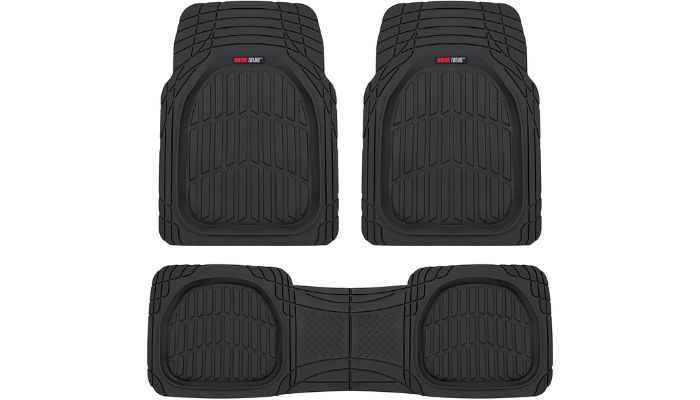 The FlexTough Contour Deep Dish Heavy-Duty floor mats from MotorTrend fit most cars, vans, SUVs, and pickup trucks and cover a large area without being too expensive. It's also easy to cut with scissors along predetermined lines to make it fit the exact shape. The set is also available in a wider range of colors to match different decors.
This set comes with two large mats for the front seats that are 30 by 21.5 inches and a large mat for the back seat that is 58 by 18 inches. Everyone's shoes are in a rubber tray except for the person in the middle back seat.
The deep-dish design has a mix of straight and diagonal ridges that catch dirt and give you better footing. Because they are made of rubber, these mats can take a lot of use and last for a long time.
| | |
| --- | --- |
| Pros | Cons |
| Each interior dish catches slush, snow and liquids but has a flexible, no-snag edge | Generic, non-custom silhouette, so there's not a 100% match guarantee   |
| Nibs on the undersides help to secure the mats in place | Though tagged as an odorless product, vehicle owners that are sensitive to smell might notice the rubber scent |
| An economic price tag despite a broad coverage  | At 1-inch high, the rubber lacks rigidity, which could be a downfall for drivers that need sturdier all-weather mats year-round for extreme weather and environmental conditions or beneath hardy footwear tread |
---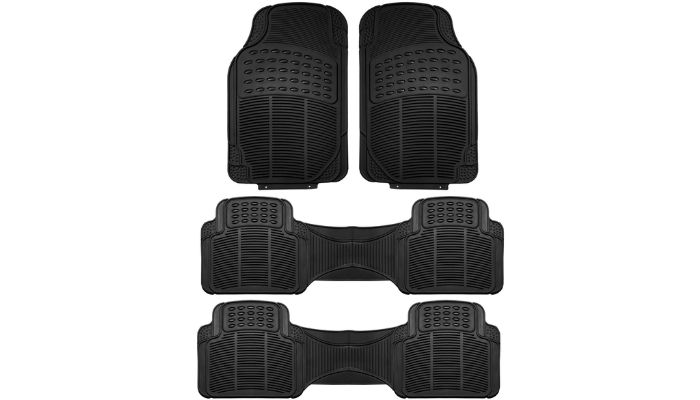 This set of three mats is a good choice for SUV and minivan owners with kids and pets who want a small, affordable set. It covers the floor under all three rows and is easy on the wallet. Made with vinyl, which is a cheap, strong, and long-lasting material that doesn't absorb water and is easy to clean.
Because it is small and light, it is easier and less stressful to clean up spills and crumbs every day. At a total of 11,4 pounds, the whole set is easy for drivers to pull out and wash. On the other hand, you can only change the widths. Each mat has a fixed length, so drivers should check the measurements three times to make sure each one fits in their car.
It measures 28.7 by 18.5 inches. Both of the back mats are 54.4 inches by 17.1 inches. Each one is 2.76 inches tall, which is good for keeping wet messes or slushy snow inside. Considering that it fits all three rows, the price is fair.
| | |
| --- | --- |
| Pros | Cons |
| Made to be trimmed, so vehicle owners can cut away excess material along the sides of mats | The grooves are not ultra-stiff or deep making them less suitable for excursions with tons of sand, mud or snow |
| Outermost ridge is tall, which helps to contain spillage or slush | The nib backing doesn't hold the mats in place against rough, high-volume foot traffic |
| The plastic is waterproof and stain-resistant  | Not as durable as rubber, vinyl mats might show wear and tear with time |
---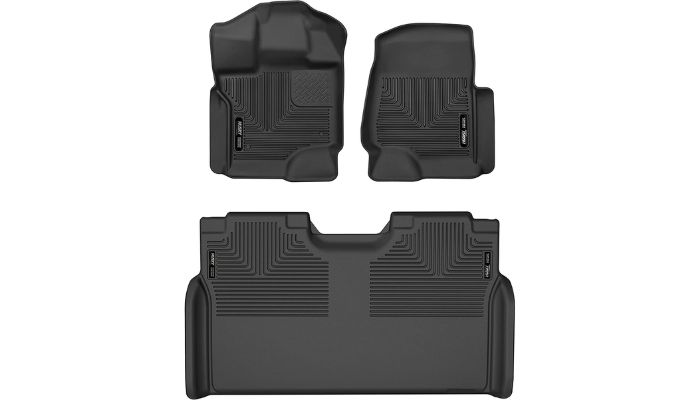 This four-piece set is good for both construction workers and people who need to move their pets. These tough mats can stand up to a lot of foot and paw traffic. With a height of 3 inches and a weight of more than 14 pounds, plus a system to keep them in place on the bottom, they also stay in place.
The edges are raised, but the ridges inside help keep mud, water, and dirt from getting to the edges. The front mats are 28 inches by 18 inches, and the back mats are 21 inches by 17 inches. These are universal floor mats, but the company that makes them can also make them fit a certain car.
| | |
| --- | --- |
| Pros | Cons |
| Consumers can use a utility knife (not scissors) to trim the mat for a better fit  | The mat's heavy weight makes lifting in and out harder |
| A center channel system funnels and holds liquids or melted snow away from the periphery of the mat  | Since they are a universal fit, trimming is likely inevitable |
| Stout tread and grooves catch dirt, rocks, grass and water  | Cutting around the nubs is time-consuming  |
---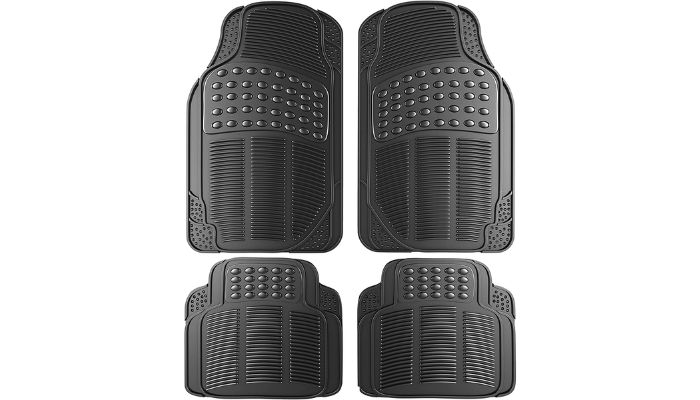 The OxGord Floor Mats are a good choice for vehicle owners who want a simple, all-weather option, especially if they live in a mild climate. The two in front are 17.5 inches by 29.5 inches. Two separate 18-inch-by-18.75-inch rear mats protect the floor under the passenger windows.
The backseat is divided, so the floor in the middle is empty. But compared to door-to-door backseat mats, separate mats are easier to take out and clean, and their smaller, easier-to-handle size keeps grime from getting on the carpet or seats when they are dumped or moved.
The sides, on the other hand, are only 0.25 inches high, so water won't pool and can dry out quickly. The mats can be made narrower by cutting the sides.
| | |
| --- | --- |
| Pros | Cons |
| Easy-to-clean backseat mats  | Not ready out-of-the-box: The mats initially smell like rubber and the manufacturer recommends airing out prior to use |
| Constructed with rubber, these mats are durable and waterproof | Four-piece set does not provide coverage of carpet above transmission tunnel  |
| Shallower grooves allow moisture to evaporate quickly  | The shallow depth of the traction ridges aren't optimal for drivers in extremely snowy locations |
---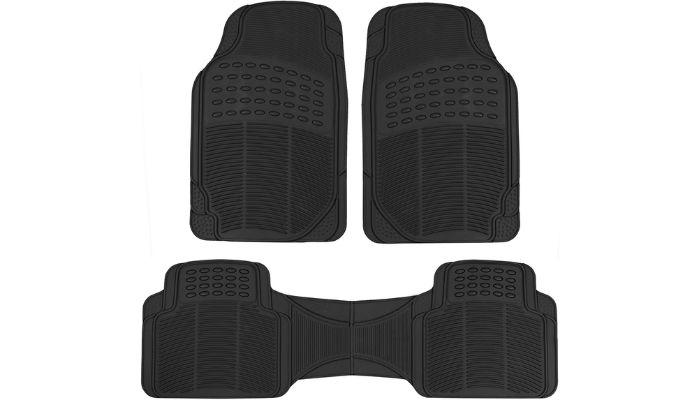 This set of three mats is the same as the OxGord Car Floor Mats. They are both made of rubber, but one is lighter than the other. They have grooves and rows of ridges to catch water and give traction. But this shape is different because it has a curved piece between the back mats that protects the middle part of the floor.
The front mats are 27 inches by 18 inches, while the back mats are 17 inches by 54 inches. There are also different guided edges that help buyers find the right fit. People who are shopping on a budget will like the low price. These are also a popular type of floor mat for older cars.
| | |
| --- | --- |
| Pros | Cons |
| Long-lasting durability for an extremely affordable price point | Less overall coverage along edges, leaving exposed carpet  |
| A less precise fit allows space to easily install and remove for cleaning  | Need to air out before use |
| Wide backseat mat shields the central floor between passenger seats  | Inexpensive price point means they aren't top of the line |
---
WeatherTech mats are more expensive for a good reason. The company is the gold standard for many consumers, but the mats are still expensive, especially if they are made to fit your car specifically. But they offer an affordable product that is a smart alternative.
Depending on where drivers live, what they do for work, and how they live their lives, these could be the perfect installation for just a bit more money than the cheap mats. The 3/8-inch deep channels catch dirt, mud, sand, snow, road salt, water, and other things.
The brand also has a trim-to-fit set ($48) and model-specific front and rear mat sets ($160) that work with a wide range of vehicles, from a Toyota Tacoma to a Ford Explorer (even when configured with three rows).
They are made of a special rubber-like material that is certified by the manufacturer and doesn't have any lead, cadmium, or toxic plastics in it. The material is also 100% recyclable, doesn't contain latex, and doesn't smell strongly of plastic or chemicals.
---
You May Also Like
Top 10 Best Vacuum Cleaner For Car 2022
The Best Bed Liners For Chevy Trucks
The Best High Pressure Water Gun For Car Detailing
The Best Snow Sweepers and Snow Brooms For Your Car
The Best Plastic Car Mats to protect the Carpet
Top 5 Best Goodyear floor mats For Cars
---
FAQs About Best All Weather Floor Mats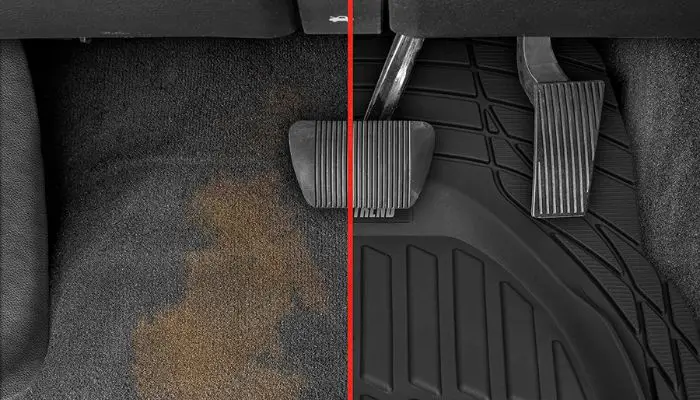 Who makes the best all-weather floor mats?
There are many different kinds of all-weather floor mats with different uses and prices. The best all-weather floor mat is one that protects a car's floor well, comes at a price that the car's owner can afford, and is made to last for that person's way of life. Most of the time, a higher price means that the item will last longer and protect you better in harsh conditions.
What brand is comparable to WeatherTech?
WeatherTech mats are more expensive to make because they are better quality. Husky Liners, Intro-Tech, and Rugged Ridge are all brands of mats that are similar.
Should I get all-weather floor mats?
All-weather floor mats are great for cars that get wet and snowy in many different ways. They protect floors from things like rocks, sand, mud, grass, and clay that come from nature or the workplace. They are easier to clean than carpet, keep stains and smells from building up in the floor fibers, and make the interior of a car last longer. They are a good investment for people who work or play outside, have pets, move food, or transport groups.
Which is better: floor liners or floor mats?
Most all-weather floor liners are thinner and lighter than all-weather floor mats. Liners look smoother because they have fewer and flatter grooves. Most are more expensive because they are made to fit better and offer more protection in hard-to-reach places. In comparison, there is a wider range of cheaper mats that fit more people.
Is WeatherTech worth the money?
WeatherTech mats and other similar high-end products are worth the price for people who live in harsh climates with extreme weather, have demanding jobs or lifestyles that involve being outside a lot, or transport groups of people or animals—especially if the vehicle is new. These mats are one of the most eco-friendly choices because they don't use harsh chemicals or materials, so they don't have a smell. Even though they cost twice as much or more than other options, they last longer.